by: Michael Shields
In the closing moments of True Detective, a premise we never considered imaginable manifested itself, and a frenzied manhunt evolved into so much more…..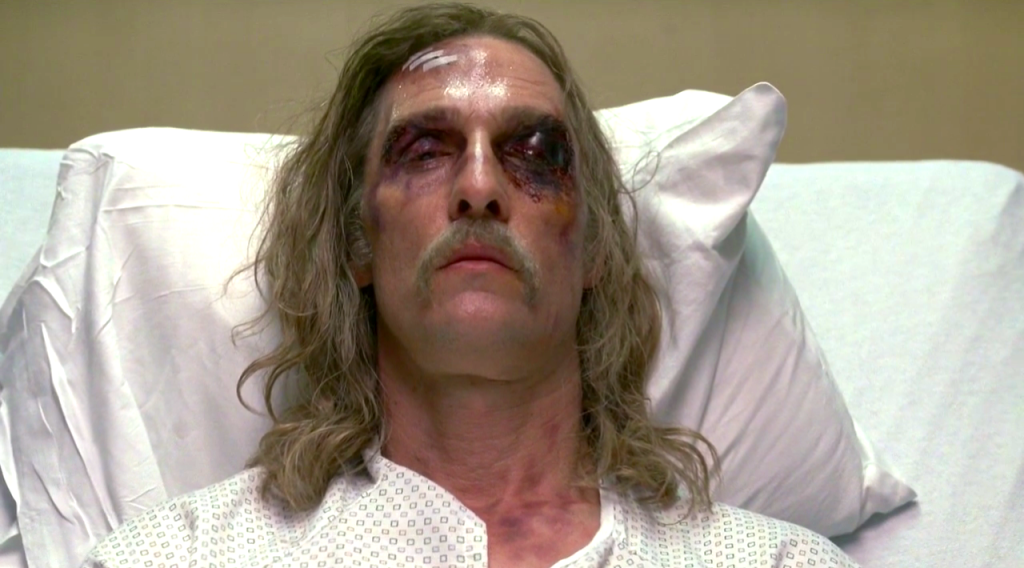 Throughout the entirety of this jaw-dropping inaugural season of True Detective, we kept harking back to Marty's discussion about "The Detective's Curse." We knew it was poignant, that it possibly disclosed the fundamental truth about the story being ultimately told. We considered this idea about the answer being right in front of your face, while paying attention to the wrong clues, was not solely about the hunt for the killer. Yet, it is fascinating to think about the fact that the Spaghetti Monster was just sitting right there the whole time ("that's whats bugging you?"), ready and willing to talk to the detectives as long as they wanted. And the hot-shot duo of detectives (both pairs) were always in a rush, their thoughts elsewhere and with presumably bigger fish to fry. This idea, a distant cousin of the reminder to always stop and smell the roses, isn't solely a condemnation of Hart and Cohle, or Gilbough and Papania, but about people in general. About the tunnel vision that absorbs us as we become consumed in our daily routine. Everybody's best opportunity in life has possibly walked right past them at some point, while they were too busy with something else. Rust and Cohle risked everything, to the point of becoming fully engrossed by their hunt for The Yellow King. And all the while the jester, the knowing fool, sat out in the open on his lawn mower and watched.
But it turns out that "The Detectives Curse" exemplified so much more. We spoke at length over the last eight weeks about what True Detective actually was. At its core we assumed it was a show lamenting on the numerous existential horrors of our reality. Many condemned the show as atheistic and misogynistic, with a tone that was impossibly pessimistic. But it turns out they, like so many of us, were looking at the wrong clues. Because in hindsight, after an unanticipated turn of events to close out the first season, it is now evident that True Detective was about the last thing we expected – hope! And about a burgeoning, yet complicated, friendship.