by: Michael Shields
As the NBA season comes to a close we take a look back at the Finals, examining what could have been….and then giving respect where respect is due at what really was.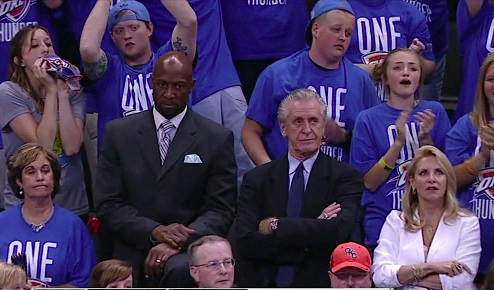 What could have been….
He made it look too easy.  That is the only explanation, the only excuse, I can come up with why I wouldn't pass the torch earlier to Kevin Durant.  That, coupled with Bron annually snatching up the MVP trophy in decisive fashion, paired with no Finals appearances, no titles, and my personal knack for patience and avoiding hyperbole before I proclaim anything the greatest.  He is just so silky smooth.  Everything he does, whether getting to the rim or pulling up for a 35 footer, all looks so effortless. The calmness in which he controls the game had me fooled, but with a thunderous (pun intended) Game 1 dunk in the NBA Finals, that sent shivers through the entire league as it may be awhile before anyone else gets to wear jewelry, Kevin Durant proclaimed what I should have known for some time.  That he has arrived.  That there is no one better at the game of basketball.
Kevin Durant is a basketball player 70 years in the making.  The perfect example of evolution in a game defined by it.  A hybrid of sorts: Part Russell; Part West; Part Gervin; Part Magic; Part Bird; Part Bird; Part Dirk, with all their capabilities and a frame created if you did indeed use the DNA of each of the aforementioned superstars to create one perfect basketball being.
With the NBA Finals, the stage, Kevin Durant, the performer, was given the opportunity to show the entire world who he is, what all the hard work and the gifts attributed to him have allowed him to become.  Game 1 was a coming out party if there ever was one, if that is even fair to say about a 3 time scoring champ with multiple big games and clutch shots under his belt.  He made noise early (the dunk heard round the league) and was superb throughout the fourth quarter where legends are made, or, in some cases, fools anointed.  He had 17 of his 36 in the waning quarter, doing it every which way but loose.  He, along with his running mate Russel Westbrook, outscored the Heat 41-40 in the second half by themselves.  What was amazing was the subtlety, the calm before the fourth quarter explosion.  It appears the Durant has the capacity to appear to casually dissolve from a game while never releasing his grip on it, scoring when the opportunity presents itself, from time to time, and then taking over when the time is right.  It's uncanny.
If titles were given on how you start a series OKC would be have their hands full cleaning up a parade this weekend, but that is why we play them out.  What could have been was not to be.  Alas, it was not his time.